New Brunswick Information Guide on Human Trafficking (English Version) (French Version)
This guide provides information on how to recognize, support, protect and assist a person who may be trafficked in the province of New Brunswick, Canada.
Income Challenges for Body Rub Attendants Report
This report published by CEASE explores the income realities for some women in Edmonton body rub parlours. This report was limited to English speaking subjects only, and does not represent the experiences of all working in Edmonton Body Rub parlous.
Safety and Violence in Body Rub Parlours Survey
A self report survey provides insight into forms of abuse and harassment experienced by 42 women work in body rub parlours in the City of Edmonton and recommendations for increasing work place safety.
The Truth and Reconciliation Final Report 2015
The final report of the Truth and Reconciliation Commission of Canada
"To some people, "reconciliation" is the re-establishment of a conciliatory state. However, this is a state that many Aboriginal people assert has never existed between Aboriginal and non-Aboriginal people. To others, "reconciliation," in the context of Indian residential schools, is similar to dealing with a situation of family violence. It is about coming to terms with events of the past in a manner that overcomes conflict and establishes a respectful and healthy relationship among people going forward. It is in the latter context that the Truth and Reconciliation Commission of Canada (trc) has approached the question of reconciliation."
"NO MORE" Ending Sex Trafficking in Canada
Final Report of the National Task Force on Sex Trafficking of Women and Girls in Canada Fall 2014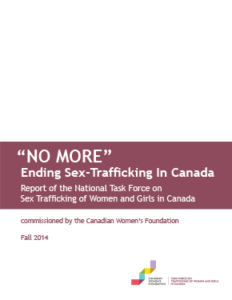 This ground-breaking, final report of the Task Force's 24 Experts is the culmination of over 18 months of in-depth, cross-Canada consultations with representatives of over 260 organizations providing services to Survivors, 20 Canadian and international experts and, most importantly, the voices of over 160 Survivors of sex trafficking and/or sexual exploitation. The report focuses its findings and related 34 recommendations in the areas of changing systems, prevention and training programs, supports for women and girls, building public education and awareness and building avenues for collective action including possible philanthropic strategies.
We need to find our voices and say "NO MORE"
Report from the National Exp Experiential Women's Round Table December 5th and 6th, 2013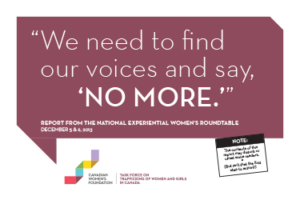 This provocative report summarizes the actual testimony of 20 survivors provided at the National Experiential Women's Round table, hosted on December 5th and 6th, 2013 by the Task Force on Trafficking of Women and Girls in Canada. The report provides the round table findings expressed in the direct quotes of the 20 experiential women who participated and details their experiences through a framework that walks the reader through stages in their journey from girlhood through to the stage of exiting. This crucial report provides the reader with the authentic voices of Survivors and has not only documented factual evidence in their words of their horrifying experiences but also their recommendations for change that could bring an end to the abhorrent crime of Sex Trafficking in Canada.
We are at a critical moment
Report from the National Round Table on Service Delivery for Trafficked Women and Girls in Canada September 18th, 2013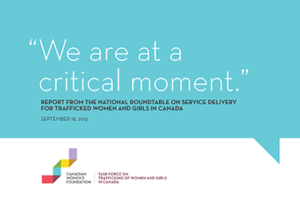 A round table was held at a central moment in the work of the Trafficking of Women and Girls in Canada Task Force while Task Force members were preparing to develop recommendations to assist to end the crime of sex trafficking in Canada. During this full-day round table, representatives from women's, Indigenous and immigrant-serving organizations, police departments, shelters, hospitals, community organizations and anti-trafficking initiatives generated hundreds of ideas, practices and recommendations. This report details the results of this gathering that provided a unique opportunity for police and nurses, shelter workers and women's advocates to meet as colleagues and identify services and system changes that could prevent trafficking in persons, identify and provide for the immediate needs of trafficked women and girls and suggest efforts that could assist women and girls to leave exploitative situations and rebuild their lives.
LAWS TO COMBAT SEX TRAFFICKING: An Overview of International, National, Provincial and Municipal Laws and their Enforcement  
Nicole A. Barrett, Director, Global Justice Associates and Margaret J. Shaw, Director, Crime and Social Policy Consulting December 2013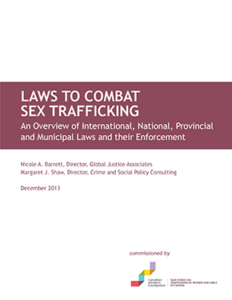 This report examines current legislation, regulations and law enforcement issues relating to human trafficking for sexual exploitation on the international, national, state/provincial, and municipal levels. An anal ysis of Canada's legal framework for addressing sex trafficking is provided as well as details of its international obligations. The report also provides selected examples of foreign, national, provincial and state legislation on human trafficking and prostitution as well as a discussion on the regulation of the internet. Summary charts on current international, national, provincial and municipal responses, as well as an overall matrix of legislative responses to trafficking for sexual exploitation are included as appendices to the report.
An Assessment of Sex Trafficking
Nicole Barrett, Director of Global Justice Associates May 2013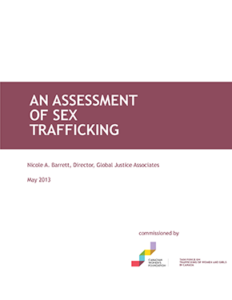 This report gathers and identifies important information on the prevalence of human trafficking in Canada in 2013, examines the profile of victims and the techniques of traffickers, and explores related area s in the human trafficking discussion – such as the demand to purchase sex in Canada, the role of the internet in sex trafficking, and the social and economic costs of sex trafficking. The report discusses impediments to accurately estimate the incidence of human trafficking, provides an overview of information known about the incidence of human trafficking in Canada, a profile of Canada's sex trafficking victims and information on how sex trafficking is occurring in Canada.  In addition, the report looks at existing information on the demand for sex trafficking from two perspectives: the sex buyer and the trafficker and asks how the internet is, and/or can be used, in trafficking situations.
SEXUAL EXPLOITATION AND TRAFFICKING OF ABORIGINAL WOMEN AND GIRLS Literature Review and Key Informant Interviews
Native Women's Association of Canada March 2014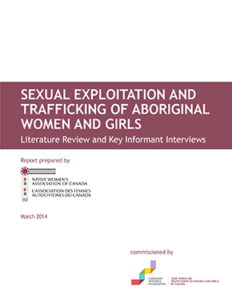 The Native Women's Association of Canada (NWAC) is a national Indigenous organization representing the political voice of Aboriginal women throughout Canada. NWAC works to advance the well-being of Indigenous women and girls, as well as their families and communities through advocacy, policy, and legislative analysis to improve outcomes for Indigenous women and girls. This research seeks to form a comprehensive picture on the state of human trafficking for sexual exploitation of Indigenous women and girls in Canada. The review assisted to inform the work of NWAC and the Task Force on Trafficking of Women and Girls in Canada and aided in the Task Force's preparations to identify and suggest key solutions for a national anti- trafficking strategy effectively addressing sexual exploitation of Indigenous women and girls in Canada.